I just arrived back from Medellín, Colombia – the City of Eternal Spring. If you've never been, seriously make it your next vacation. Beautiful setting in a valley 6,000 feet above sea level. Kind people that smile and speak to you on the streets. Perfect weather that puts Hawaii to shame.
[Jump to the bottom to read the story of my personal connection to this amazing city.]
This was my fourth trip to Medellín, and the mood was a bit different this time. The people were worried about the United States, our future, the relationship between our countries, and our president. So was the mood while I spoke to entrepreneurs at Ruta Ñ about expanding to the US market and students at Universidad EAFIT about the 2016 election and its international ramifications.
Why? Because they only hear about politics in the United States through the communication frame of their media, Facebook, and some US news outlets. I would be terrified also if that's all I heard about America, especially for Latinos.
It got me thinking about what our government and new president needs to do to improve international communications and our image, specifically in Latin America and Colombia.
Properly Communicate the Problems
No one will deny America has an immigration problem – both illegal and legal. Now before you jump down my throat, hear me out. Nations are nothing but land with borders. Protecting the borders is a core function of government that our nation has failed at. On the legal side, our visa program is in desperate need of reform. The H-1B visa has been abused and many overstay their visa's set term.
At the same time, the United States is still the greatest country in the world with boundless opportunity. We should welcome immigrants who bring value to our nation, follow the process, and assimilate into society like the millions of immigrants in the 1800s and 1900s.
President Trump needs to clearly communicate this problem to Latin America. I feel confident – that if done well – they will understand our country's problems related to immigration. Many of the Colombians I met last week desperately want to come to the US to study, start a business, and raise a family. They want to follow the rules, but they don't want to be stuffed into the box that all individuals in America of Hispanic/Latino-descent are there illegally.
If all the Colombians and Latinos hear from their media and ours is that Hispanics are "ruining America" and we need to close the borders to them all, our relationship will be ruined for generations. Helping them see the problems we face and asking them to be part of the solution is imperative…and it needs to be done fast!
Better Understand Their Frames
We all have frames through which we process and understand communication. These are incredibly challenging to change, if not nearly impossible. It is significantly easier to identify and speak to someone else's frame than it is to make them see the issue from your frame/point of view.
I spoke to a Colombian entrepreneur who just started a joint-venture LLC in Florida. He is now considering shutting it down because he is worried his company will be discriminated against and he will not be allowed to come participate in the business. This is all because of the frame through which he currently views the United States.
Just as President Donald Trump so masterly acknowledged the American peoples' emotions of feeling left behind while casting a vision for how to go back to the good life, he needs to do the same with international audiences, especially Latino ones. This requires him to learn and understand their communication frames.
Creatively Engage the Local Media
It is no secret that President Trump and the American media aren't trading love notes and having a beer together after a long day (aside from the fact that the president doesn't drink.) This has also placed the media in other countries on notice. They are afraid and their coverage of Trump bears out this fact.
Our president needs to instead embrace his stardom and take his message directly to the local media outside the US. This is best done in person and with the second tier news outlets that will give him a more fair shot. He can also have his representatives – ambassadors, trade representatives, etc. – take to the media with a proactive message that starts by identifying America's problems and President Trump's sensible, business-like ideas to address them.
His comms people can prep the journalists prior so they don't spend all their time asking questions about the wall, the travel ban, and other topics that are really peripheral. If the interviews focus on Donald Trump the person and his compassion to help people, it will be an instant win.
Conclusion
I went to Colombia to teach on politics and communications, and instead it taught me a lesson that hopefully our president will adopt. There is so much similarity between the United States and Latin America, and it is my hope we use these tactics to deepen the relationship, not sever it.
---
*Personal Story – Our Hearts Are in Medellín*
In 2012, my wife, Becky, and I started the process of international adoption. We weren't 100% sure where we should adopt from, but the Lord made it clear several months in that our next child was in Colombia. During two years of grueling paperwork with the US and Colombian governments, multiple setbacks, and other challenges, we were matched with a four-year-old boy named Samuel (pronounced SAM-well).
He had a special need related to his heart whereby, prior to us meeting him, he had two open-heart surgeries to help with his diagnosis of tricuspid atresia. At the time of the match, he was in a foster home with an older couple in the city of Itagüí, a manufacturing town next to Medellín.
On August 19, 2014, we pack our (many) bags and traveled with our two young girls – Lilly Grace (4 at the time) and Alex (2 at the time). Arriving late in Medellín after flying from Montgomery to Dallas to Miami to Colombia, the apartment we rented was flooded. Thankfully the company had another larger place in an even better part of town. (Isn't God good?)
Two days later on August 21, we went to the ICBF (national DHR essentially) and met Samuel. He spoke no English, which is why you hear my poor attempt to communicate with him in Spanish. (Now he speaks no Spanish, unless you give him commands in his sleep.)
He lived with us in the city while we finished the court process, which was finalized by a caring judge on September 28.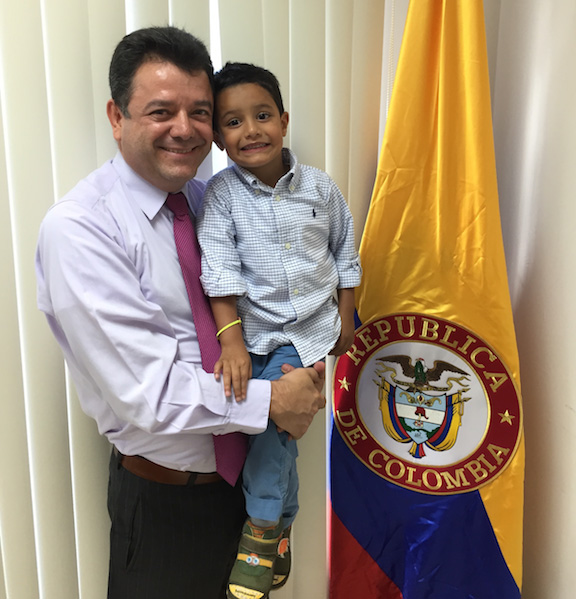 On October 2, when we flew to Bogotá to complete the process with the US Embassy, living there for about a week and a half. (By the way, the weather is WAY different in Bogotá compared to Medellín's amazing climate.)
For those interested in more of the minutiae of our adoption process, you can read our Colombian adoption blog written by my crazy talented, expressive wife. And if you want to talk about possibly adopting a child, it's one of my favorite subjects, so drop me a line.