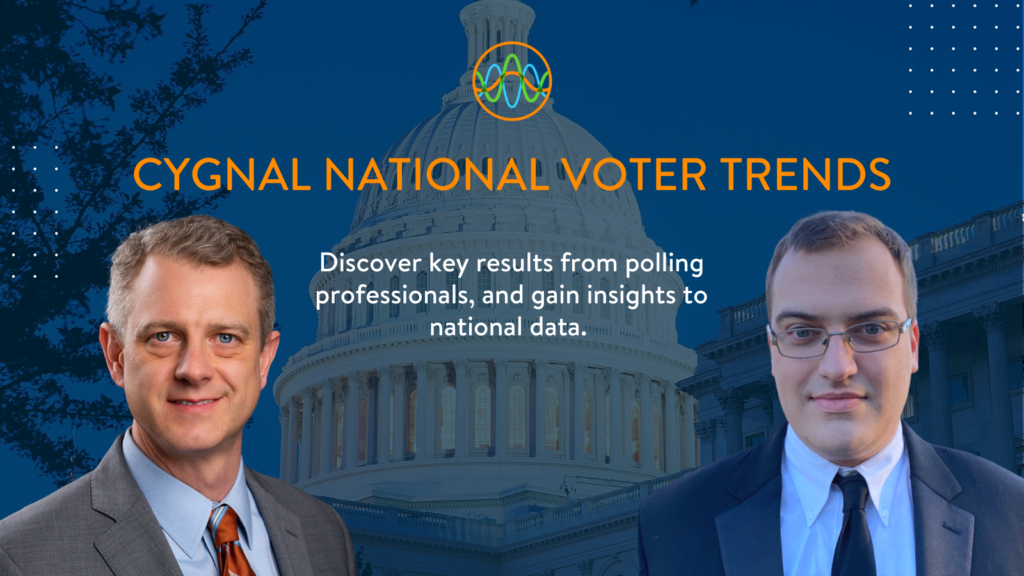 On this week's episode of the Pulse Pod, Cygnal's Brock McCleary, VP of Polling, and Noah Wyhof-Rudnick, Director of Sampling & Innovation, share their insights from Cygnal's March National Poll. Together, they dive into the most important trends concerning this recently conducted survey, and how those are shaping up the current electoral environment.
---
Be sure to subscribe to The Pulse Pod!
---
Key Takeaways:
57% of voters believe the country is on the wrong track, having a more intense feeling about this than those individuals who actually think the US are on the right path. Age and geography come through as important parameters – voters above 50 seem to be more pessimistic about the political direction of the country, while those under 49 fall into the opposite category.
Income and educational attainment are important factors – A higher degree of dissatisfaction with the country is shared by non-college education voters and middle-class voters whose annual income is below 50K.
When it comes to Independents, those leaning towards Republicans appear to have a more committed feeling than those who lean towards the Democratic party. In addition, there's been an increasing number of young Democrats trending towards Republicans throughout the last year.
Inflation has certainly taken center stage in American politics, as there's a steady incline in this issue as a top concern. This concern is stronger among middle-class voters, especially women. Taking a look at the overall supply chain, inflation is only expected to get worse before getting any better. The challenge for Republicans here is making Democrats own all of the above, by proving that inflation is nothing more than a direct consequence from bad policy in Washington.
There's a substantial lack of economic confidence, especially amidst 50+ voters. Same as inflation, women appear to be more concerned than men overall. From a political side, even 6 out of 10 democrats would admit the economy is getting worse, while 50% of the voters acknowledge they feel the impact of inflation several times a week, whether buying gas, buying groceries, or regarding any other daily expense.
Democrats give the impression of being off message as they continue to prioritize issues that, while being aligned with the general ideology and values of their affiliates, do not address the most pressing problems that affect more than half of the electorate.
In relation to COVID-19 impact, surveys show younger voters are more concerned about public health than they are about economy, particularly when it comes to how the extensive lockdown and social restrictions will affect future generations. On a interesting note, mask wearing has ceased to be an emblem of party affiliation.