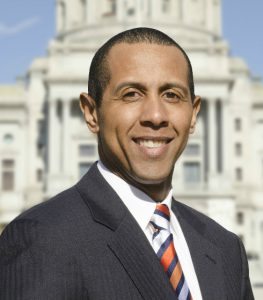 On this week's episode of the Pulse Pod, Brent and John Rogers, one of Cygnal's Directors of Client Strategy, talk about "Coming out of COVID" and the impact it is going to have on politics. They discuss a recent Cygnal poll showing the consequences of politicians violating their own restrictions. This poll revealed that Governor Whitmer's image has gone down several points after going into a bar with another 12 people and also flying to Florida while asking Michiganders to stay home—It seems that the thing voters hate the most is hypocrisy.
---
Be sure to subscribe to The Pulse Pod!
---
Our guest this week on the Cygnal Pulse Pod (Ep. 27) is Lenny McAllister a talented media personality, public speaker, writer, author, and rising leader that has "… a mission to make positive changes to the status quo within politics, societal matters, and other issues that hamper our American way of life …"
Lenny is a "rising star" among the Republican grassroots, political insiders, the commentary community, and much of Black America, primarily for having uncommon passion for urban constituents and conservative compatriots alike. He continues to be featured on leading regional, national, and international cable news programs offering an insightful look into modern conservative thought. Since 2014, Lenny has been featured as both a host and contributor to outlets including the iconic Newsradio 1020 KDKA (Pittsburgh), Sun News Network (Canada), WQED Pittsburgh, National Public Radio, and the Pittsburgh Cable News Network.
"The McAllister Minute," a regular feature of the American Urban Radio Network, runs 2 weeks a month on hundreds of stations nationwide where Lenny extols conservative values and perspectives to mostly progressive audiences.
Mentioned in this episode:
What you will learn:
What got Lenny interested in politics in the first place?
What challenges and opportunities did COVID bring into the traditional education system?
How does the issue of school choice play in politics?
What's Lenny's advice for political parties who want to promote a feeling of equality between different communities?
They said what?
"When a white kid from the suburbs is caught with a certain grammage of marijuana, they're given a slap on the wrist or they're given probation. If a black kid is seen with the same amount of grammage, they're looking at jail time." Lenny McAllister
"The only place in America where people don't have self-determination […] is in education because your education is based on your zip code." Lenny McAllister
"School choice […] is the gateway that allows a kid's view of the world to be expanded past their zip code, expanded past their immediate region." Lenny McAllister
"It's very hard for a student to see poverty in their school, poverty in their neighborhood, hopelessness in their classrooms […] and then expect a majority of those students to rise above and do something great." Lenny McAllister
"With the American Dream, all dreams are possible." Lenny McAllister
"Because we've all been forced to stay home and look at this very directly, parents are now being more responsive to their children's scholastic needs, from developmental needs emotionally, to academic needs for life beyond." Lenny McAllister
"School choice does not mean that you don't choose a school district. School choice means that the school district is one of several choices." Lenny McAllister
"There's always some kind of cultural phenomenon that forces conditions on the ground to shift and thus we as a society […] have to shift with it. Unfortunately, in public education, they don't want to do that pivot." Lenny McAllister