Results Update
The gubernatorial race has stayed at a consistent 6-point lead for Governor Whitmer. The Governor has added a little to her image while Dixon has fallen a bit over time, most likely due to the lopsided TV spending in the closing weeks. This is backed by Whitmer's positive image movement with older voters, which you would expect following advertising.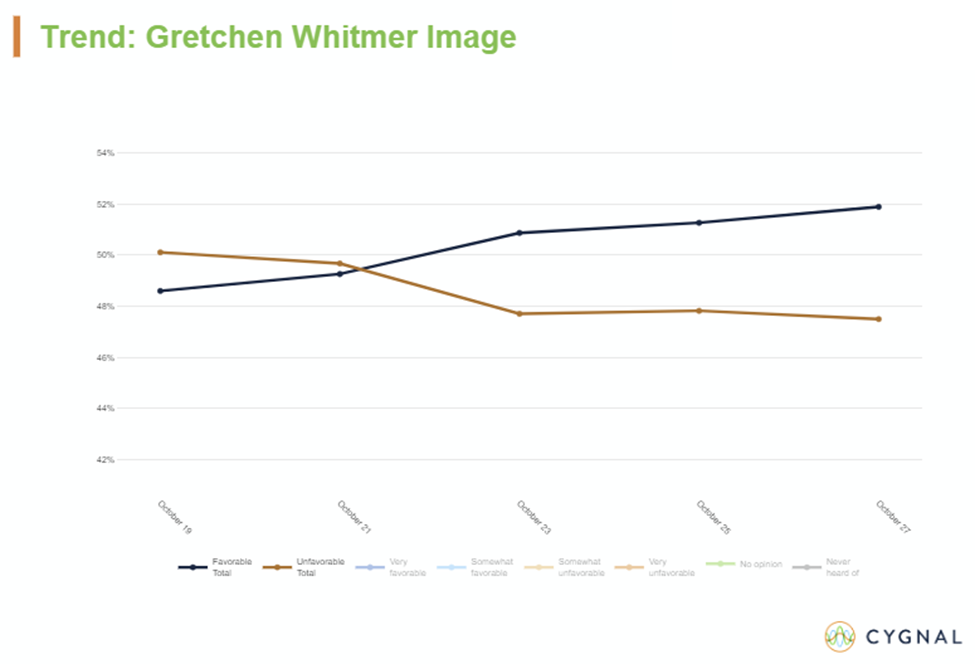 The generic ballot is back to an R+1 lead, and for the other two named ballots, we are seeing them converging to the gubernatorial number. Incumbent Secretary of State Jocelyn Benson's lead has moved from 10 points back down to 8 points, but Attorney General Dana Nessel's lead is now at 4 points, gaining each time we have run this poll. With a quarter of the vote in, the time to close the gap in these races keeps getting smaller, but Republicans should have an easier time down ballot. We expect a lot of ticket splitting and/or named Republican consolidation to meet that number in the end. 
One reason for Whitmer's lead has been a dual ability to keep Democrats in line and peel off voters that agree with how she is running the state. The chart below shows the 2020 recalled ballot and Whitmer's margin by whether a respondent believes that Michigan is heading in the right direction and then broken out by party:
Abortion is still a big driver for those who have yet to early vote (mostly younger Democrats) but isn't a motivator for those on the fence about early voting. The crosstab below displays the breakdown among all voters, where 40% of those who have yet to vote by mail have this as the top issue, but they're already likely to show up. It drops to only 11% among those on the fence about voting absentee, and inflation is a much bigger issue.

Governor Whitmer has been able to keep Biden-like margins among Democrats, including no serious bleeding from the 20% of Democrats that believe Michigan is heading in the wrong direction. Independents are split more in the wrong direction, but a lot of those voters are still undecided, as Dixon is only winning 51% to Trump's 70%. These will be the last voters to decide, and some might not show up but it's likely that they break for her in the end. The third of Independents that like the direction of Michigan are firmly behind the Governor, putting together a full coalition that is giving Whitmer a narrow majority. Looking at this, it's the wrong direction respondents that still have to choose so Dixon could tighten this margin. Some of these voters went 3rd party in 2020 or told us they didn't vote even if they did so their choice is either Republican or staying home.
Be on the lookout for brand new MI data!
With Cygnal's Momentum tracking poll in Michigan, we'll be releasing data every other business day. The next round will be released Monday, Oct. 30. Want to learn more about our new tracking poll methodology? Discover all the ins and outs of Cygnal Momentum here.

Cygnal's Michigan Statewide toplines and full analysis deck are below. Also available for download are individual toplines for the Detroit, Flint, Grand Rapids, Lansing, and Traverse City DMAs.

Detroit-MI-Toplines
Flint-MI-Toplines
GrandRapids-MI-Toplines
Lansing-MI-Toplines
TraverseCity-MI-Toplines