Results Update
The Democratic advantage on the generic ballot ticked back down to a one-point lead. Not much moved in the gubernatorial race with a six-and-a-half-point lead still for Whitmer, but the favorable gap between Whitmer and Dixon is now five points (that usually can be a leading indicator). This comes right after a good fundraising period for the GOP challenger after being outspent on the airwaves last week. For the other races, AG Dana Nessel maintains her five-point lead as undecideds drop to their lowest number yet, and in the SoS race, Democrat Jocelyn Benson leads by 9%. One of the most interesting things has been that split between the named race and the generic ballot, and after digging through it, the answer seems to be in a voter's religious affiliation. The chart below shows the breakout of the ballots by the self-identified religion of the respondent.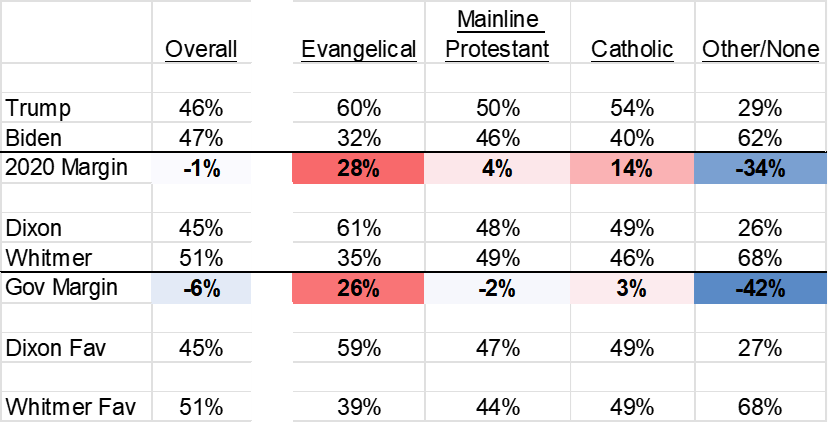 Evangelicals are sticking with Dixon, but she is underperforming everywhere else, especially with Catholic voters. Michigan's Catholics live in Central and Upper Michigan but are also older, so this could be a result of TV ad spending or other campaigning. While Whitmer leads by 3% with this group, they still back Republicans 56% / 41% (+15%) on the generic ballot and are the largest source of split ticket voting in our survey. For instance, on the AG ballot they are currently planning to vote 44% / 43% (+1%) for Republican Matthew DePerno. Mainline Protestants on the other hand, concentrated mostly in the Dutch-heavy Western Michigan, have been slowly moving left the last few cycles, and Trump won them on the recall ballot by 4. Whitmer is in a close tie with Dixon there, but this group is 50% / 47% (+3%) on the generic congressional ballot, meaning that they haven't shifted right post Trump, bringing up implications for the contest in Michigan's 3rd. 
Be on the lookout for brand new MI data!
With Cygnal's Momentum tracking poll in Michigan, we'll be releasing data every other business day. The next round will be released Monday, Nov. 3. Want to learn more about our new tracking poll methodology? Discover all the ins and outs of Cygnal Momentum here.

Cygnal's Michigan Statewide toplines and full analysis deck are below. Also available for download are individual toplines for the Detroit, Flint, Grand Rapids, Lansing, and Traverse City DMAs.

Detroit-MI-Toplines
Flint-MI-Toplines
GrandRapids-MI-Toplines
Lansing-MI-Toplines
TraverseCity-MI-Toplines