Results Update
Republicans moved up a point on the generic ballot while Democrats moved down, and it is back to R+11. There is a question on what moves when the generic ballot moves from poll to poll. Below are four plots showing the change every-other-day between the generic ballot on the x-axis and the four ballots we are tracking on the y-axis: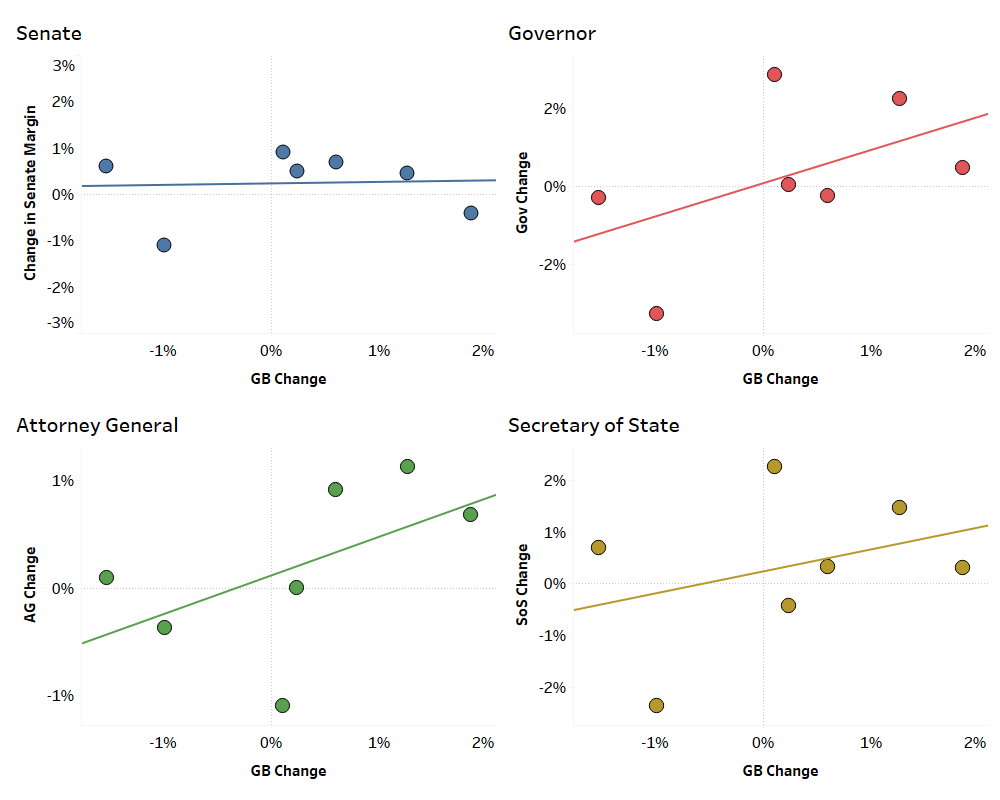 In most of the races, especially the gubernatorial, as the generic ballot increased, Republican candidate Mike DeWine's share increased and when it fell, his share fell. This could be because he is so far ahead that it's Democrats and Independents moving that have a stronger effect in this race than others. For Attorney General and Secretary of State, there is also movement, though the relationship is a little weaker. For the Senate race however, movement on the ballot seems to have no relationship with movement on the generic ballot, and there is zero relationship between the two.
Be on the lookout for brand new OH data!
With Cygnal's Momentum tracking poll in Ohio, we'll be releasing data every other business day. Want to learn more about our new tracking poll methodology? Discover all about Cygnal Momentum by clicking here.
Cygnal's Ohio Statewide toplines and full analysis deck are below. Also available for download are individual toplines for the Cincinnati, Cleveland, Columbus, Dayton, Toledo, and Youngstown DMAs.
Cincinnati-OH-Toplines
Cleveland-OH-Toplines
Columbus-OH-Toplines
Dayton-OH-Toplines
Toledo-OH-Toplines
Youngstown-OH-Toplines