Final Update
For our last MI tracking poll, we show Governor Whitmer with a 4-point lead on the gubernatorial ballot that shrinks to three and a half points when leaners are pushed. Democrats are leading in the other races as well, despite Republicans holding the edge on the generic congressional ballot. In the AG race, which has been the closest throughout, Dana Nessel is up 48% / 44% and for SoS, Jocelyn Benson is also well positioned for a win with a lead of 49% / 44%. Among those who have voted so far, the recalled 2020 ballot was Biden up 68% / 29% (+39%). Whitmer wins these voters by a slightly larger 70% / 29% (+41%), and the other Democrats do just about as well, with both Benson and Nessel at 70% / 26% (+44%). This would seem to suggest that Dixon may run a bit ahead of the rest of the ticket, but also that we don't expect a lot of people to split up their votes for these candidates in the end. 
While Governor Whitmer holds a 3 to 4-point lead, we can see a few different turnout scenarios potentially happening (and the higher the turnout, the more Whitmer extends her lead). We see why in the chart below which shows the margin by whether a respondent has voted already, whether they definitely or probably plan to vote, and if they have a history of turning out in midterms.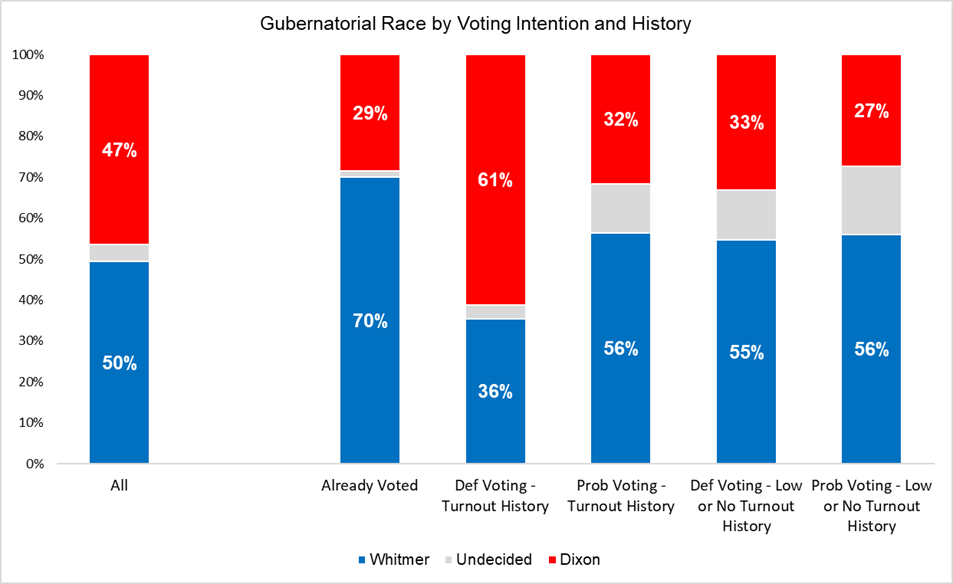 A lower turnout election would take into account the very large Democratic lead among early voters, and then put the definitely election day voters on top of that with a handful from the other groups. But as turnout increases, it picks up more from the Whitmer-friendly universes of those who are newly registered or usually presidential year voters, as well as those saying they are only probably voting. The other big factor is Black voter turnout. Detroit clerk Janice Winfrey is expecting a very large drop in Black voter turnout and in our polling, we also see how precarious it is. Of course, clerks miss on turnout all the time, and this should not be taken as a guarantee, but we took the universes above and looked at the breakdown by ethnicity in the chart below.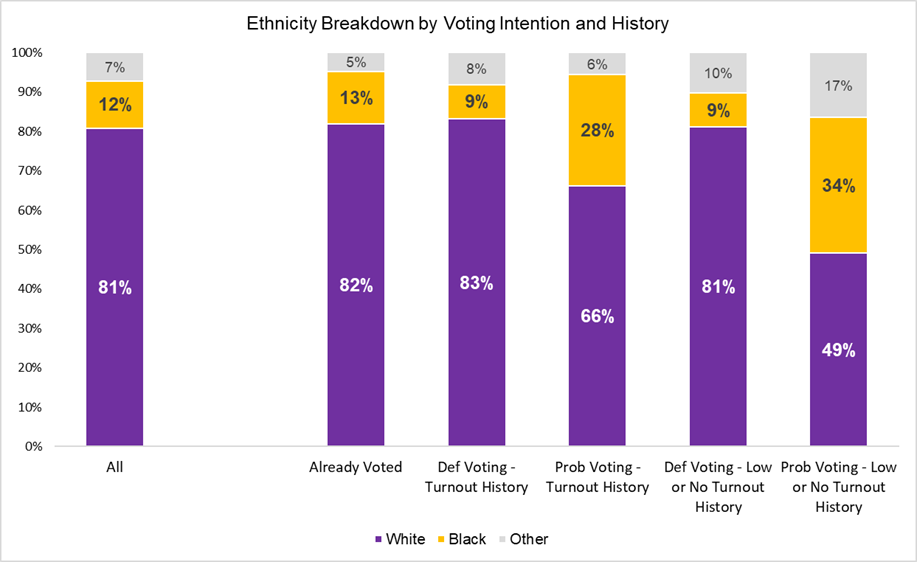 Black voters were far more likely to say that they were only probably voting, and considering how Democratic the early vote is, this is not a higher share of those voters. Their turnout on Election Day could make a big difference up and down the ballot.
Thanks for keeping up with our MI tracking data!
Want to learn more about our new tracking poll methodology? Discover all the ins and outs of Cygnal Momentum here.

Cygnal's Michigan Statewide toplines and full analysis deck are below. Also available for download are individual toplines for the Detroit, Flint, Grand Rapids, Lansing, and Traverse City DMAs.

Detroit-MI-Toplines
Flint-MI-Toplines
GrandRapids-MI-Toplines
Lansing-MI-Toplines
TraverseCity-MI-Toplines